AFP World Academic Archive. The AFP World Academic Archive (AFPWAA) has a large collection of archived videos (including current ones) that are especially appropriate for use in Media Literacy, Internet English, and Current Events classes, although teachers are not obligated to use the AFPWAA resources for these courses (i.e., you are free to chose other materials on your own). The instructions below introduce the basic steps needed to access and use these materials. For further information on how to access them, please consult the reference librarian at the main library, not the AV Library.
Before you start. Before accessing the AFPWAA, you need to go the PC Support Lounge on the first floor of Building 2 to do the following:
1. Obtain an e-mail address which enables you to use the Aoyama Gakuin University e-mail system. (You must use an e-mail address issued by Aoyama to access AFPWAA.) After you register for an account at the PC Support Lounge, you will be able to use an email address that is formed in this way t[5 digits of the number on your official ID card]@aoyamagakuin.jp…something like this [email protected].
2. Register a PIN and a LDAP password in order to access the AFPWAA from computers on campus or from home. This is generally the same LDAP password that you need to access the Aoyama Portal. [It is recommended that you use the same one to avoid unnecessary confusion.] You will also need to select a "matrix pattern" as an additional security measure. The staff at the PC Support Lounge will patiently walk you through that procedure, which sounds more complicated than it actually is.
3. After completing steps 1 and 2 (above), go to https://business.form-mailer.jp/fms/df1e4d9243642 in order to register for an AFP World Academic Archive account. You will be required to input your official AGU email address on that page and select Aoyama Gakuin University from a drop-down menu. Unfortunately, the entire interface is in Japanese. See image of the sign up page in Figure 1.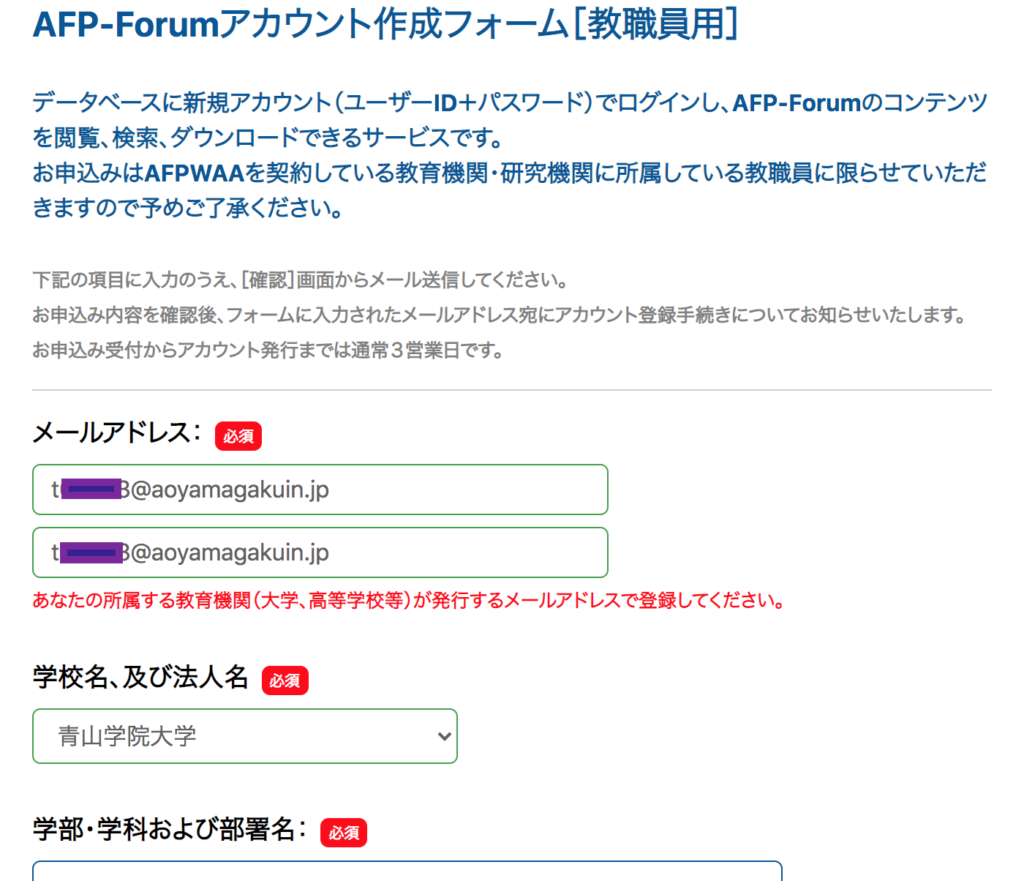 Once your registration process is complete (a slightly cumbersome process that involves receiving a series of emails from the AFP-Forum–Fig. 2 shows the final email you will receive from them directing you to activate your account), you will be able to access content in the AFP World Academic Archive (see Fig. 3 below).
After you successfully login to the AFP World Academic Archive for the first time you will see the screen shown in Figure 4 (below).
From this point onward the interface of the system is entirely in English and it is highly user-friendly. The audio-visual materials are well categorized and searchable (see Figure 5).
Clicking on a story related to the Tokyo 2020 Olympics may bring up a screen such as the following (Fig. 6). Some of the video segments are roughly edited and show the process of interviews, for example, so you can get insights into what goes into a news story before it is polished and a "narrative" is built around it.