CALL classrooms. CALL (Computer Assisted Language Learning) classrooms are located on the 4th, 5th, and 6th floors of Building 15 (Goucher Memorial Hall) and are equipped with VHS players, DVD/CD players, headphones, and personal computers with Internet access for each student and also the teacher. No physical keys are needed to access this equipment, but teachers need to activate the system from the PC on the teacher's desk using their portal login credentials.
From April 2021, three CALL classrooms on the 4th Floor of Building 15 will feature multiple interactive white boards that will facilitate brainstorming and collaborative work among students and teachers. Room 15-507 features an interpreters' booth, but can be reserved by teachers when it is not in use for courses specialized in interpretation.
At the beginning of each academic year (usually the first week of April) there is an orientation for teachers new to using CALL classrooms. New instructors are strongly recommended to attend this orientation, even if they will not be using CALL facilities initially since they can be made aware of these classrooms' potential for future use. Teachers will receive a notification directly from the Foreign Language Laboratory about this orientation. Each teacher who attends will also receive a manual in English about how to use the CALL system, which they can take home with them. Copies of this manual are also available at the FLL office.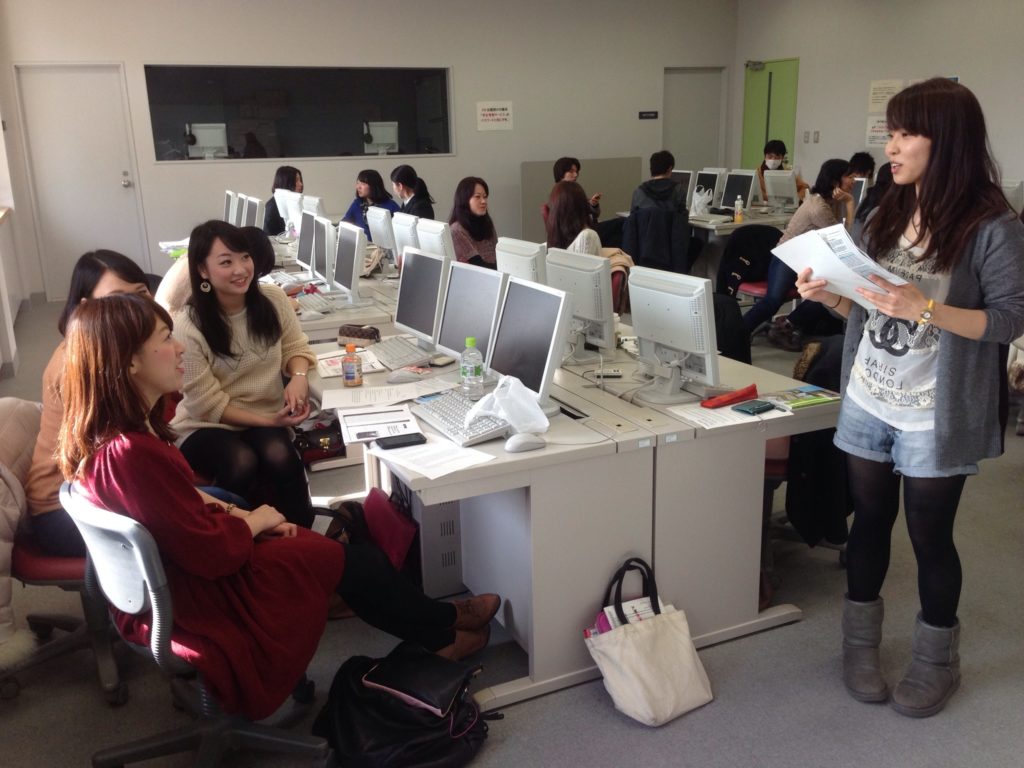 Equipment in other classrooms. Equipment available in the other (non-CALL) classrooms varies, although the following is a general guide. Regular classrooms are equipped with VHS, DVD, and CD players, with either projectors and screens, or in some cases, TV monitors. Almost all of the regular classrooms have connections for using a PC although you will need to pick up the PC itself at the appropriate faculty lounge for the building you are teaching in if you are not using a laptop of your own. All of the classrooms in Building 17 are equipped with Blu-Ray players (which can also play DVDs and CDs); teachers need their university identity cards to access this equipment.
PC (but non-CALL) classrooms are equipped with VHS players, DVD/CD players, and personal computers with Internet access for students and also teachers, but no headphones are provided. Teachers need their university identity card to activate the teacher's computer in the PC classrooms. Students can activate the PCs on their desks by using their own identity cards.
In some classrooms, keys may be needed to access the equipment. Keys can be picked up in the appropriate faculty lounge. Generally, consoles and equipment can be unlocked by swiping your faculty ID over the appropriate reader on (or next to) the console or locker. Additional equipment, such as microphones or PCs for classroom use, can also be picked up in the appropriate faculty lounge if any of these items are not already in the classroom being used. Be sure to return the key and/ or equipment after teaching. If you have questions about the equipment available in the classroom you are teaching in, please ask the staff at the appropriate faculty lounge. They are well informed about these matters.
Building 1, first floor…for classrooms in Buildings 1, 2, 3, 4, 5, 6, 7, 11, and 14
Building 8, first floor..for classrooms in Buildings 9, 15, and 16
Building 17, second floor..for classrooms in Building 17
Getting assistance. The staff is very helpful in showing teachers how to use equipment and locate materials. There is a telephone in each classroom if problems arise during a class. For regular classrooms, dial extension 12127 (Housouchouseishitsu, or Broadcasting Control Room); for CALL classrooms dial 12557 (CALL classroom assistance). A staff member will come quickly to assist. Experienced teachers with classes on the same day are also usually able to help you learn how to use equipment.