Discussions at the Chatroom
The Aoyama Gakuin Chat room is a physical location on campus (on the 1st floor of Building 3) where students can practice speaking English with young people from around the world on Mondays to Fridays, 11AM – 5PM. We would like teachers to offer students who attend three Chat Room sessions in the Spring and Fall terms, a bonus to the participation portion of their grades in IE Core I, II, III or in Oral English 1 or 2.
Students who have missed classes for legitimate reasons (illnesses, attending a funeral, etc.) can use Chat Room sessions to make-up for missed class time.
This video provides an excellent introduction to the activities of the Chat Room:
To join a 40-minute Chat Room session, students need to make a reservation on the student portal. That reservation page can be accessed from http://web.iec.aoyama.ac.jp/chat_room/top .Discourage your students from reserving lunch time sessions as it is usually full at that time.
This PDF (below) explains clearly how we intend to make use of the Chat Room for IE Program purposes and as a way of giving students who might have social anxieties, or other issues, alternate avenues to fulfill course requirements related to attendance, presentations, and being group leaders.
Below is an image showing the stamp sheet that the Chat Room provides to students showing proof of participation in chat room sessions.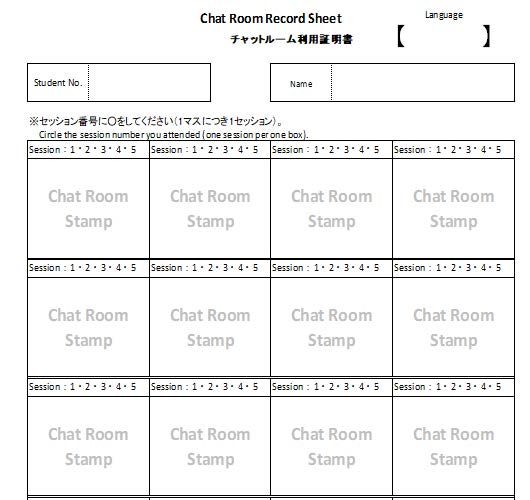 The Chatroom has several special events each year, including a Halloween party and a Christmas party.