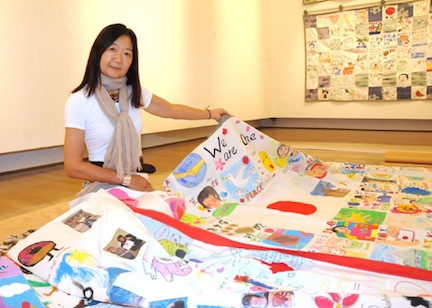 Speaker: Ms. Linda Ohama

Topic: Obachan's Garden & The Kids Quilt Project

Location: Sagamihara Campus, Room E-104
Date: Tuesday, June 5, 2012
Time: 1:10 PM to 2:40 PM (3rd period)
Ms. Linda Ohama is an award-winning Japanese-Canadian filmmaker who produced and directed the film Obachan's Garden. She will speak about her experiences making the film with her 103-year old grandmother who came to Canada as a "picture bride" in the 1930s, but had to abandon her two daughters, whom she finds by the end of the film in a heart-warming scene. The speaker will tell us how the film helped her to rediscover her Japanese identity and how she got help in making it from none other than Clint Eastwood. You may view Obachan's Garden in its entirety at the website of the National Film Board of Canada.
In the latter part of her talk, Ms. Ohama will speak briefly about the "Kids for Kids Quilt Project" which created a cloth letter to send to the young people of Tohoku. In this project, young people from the Canadian provinces of British Columbia, Alberta, Saskatchewan, Manitoba, and Ontario created a "quilt letter" for the children of farming villages, towns, and cities in northern Japan after the March 11th Earthquake and Tsunami. The project has taken on a life of its own as children in Tohoku who received the cloth letters have produced some of their own for the children of Canada. Listen to Linda Ohama speak about the project on the radio program "North by NorthWest," which was broadcast on March 11, 2012, the first anniversary of the tragedy. [The audio file requires Flash, so it will not play on an iPhone, iPad or iPod Touch. Access from a PC.]

To be even better prepared for the lecture, you may wish to download and read an article reviewing "Obachan's Garden" that Gregory Strong contributed to the Daily Yomiuri. The article appeared on November 14, 2002, as the film was being screened throughout Japan for the first time. The article is followed by some skimming and scanning, and comprehension questions.

Finally, it would useful for students and teachers who plan to attend the lecture to do some background reading on the internment of Japanese by the Canadian government during the war. You can check out Wikipedia's page on Japanese internment and an entry in the Canadian Encyclopedia about the history of the Japanese in Canada.

Here are some photographs of the Murakami Visitor center in Steveston, a small community near Vancouver that was once a Japanese fishing village and boat-building centre, Asayo Murakami's home.