Handouts referred to in opening presentation:
Ideas for Getting Student Writing Samples
Materials Exchange Resources
Here are resources that were contributed by teachers for the "Materials Exchange" segment of the 2023 IE Orientation.
WRITING-related
—For IE III Writing & Academic Writing
Writing Paraphrase Cards (BJ Butler)
—For Academic Writing
Source Report Form (Martin Darling)
Some Ideas for Teaching Academic Writing (Tim Gutierrez)
WRITING or CORE-related
Past Tense Chain Story (Chris Lavey)
FOR POSSIBLE USE IN CORE
Language of Poetry (Joseph Dias)
IDEAS FROM IE SEMINARS
Using Personality Type as a Lens to Analyze Literature (Yoko Munezane)
VOCABULARY DEVELOPMENT (any course)
Keyword—Facilitating vocabulary acquisition (Andrew Reimann)
SAMPLE KEYWORD
The final version of the 2023 IE Orientation (for teachers) program is here! Apologies for the delay. It took longer this year for everything to coalesce than in previous years. The event will take place this coming Saturday, April 1st from 10 AM but we encourage you to be there by 9:45 AM. It will be a semi-flipped format this time in that some of the presentations will be made available to you through a Vimeo Video Showcase at https://vimeo.com/showcase/9361953 [Ask J. Dias for the password] in advance. You are asked to view the short videos before the orientation as they will serve as springboards for discussion. Note that at the IE Orientation Deborah Bollinger will speak about the importance of career guidance for students and she would like to share a flyer for an upcoming career-related guidance session for 2nd year students and a file on "Job Hunting Activities for New Graduates (update)."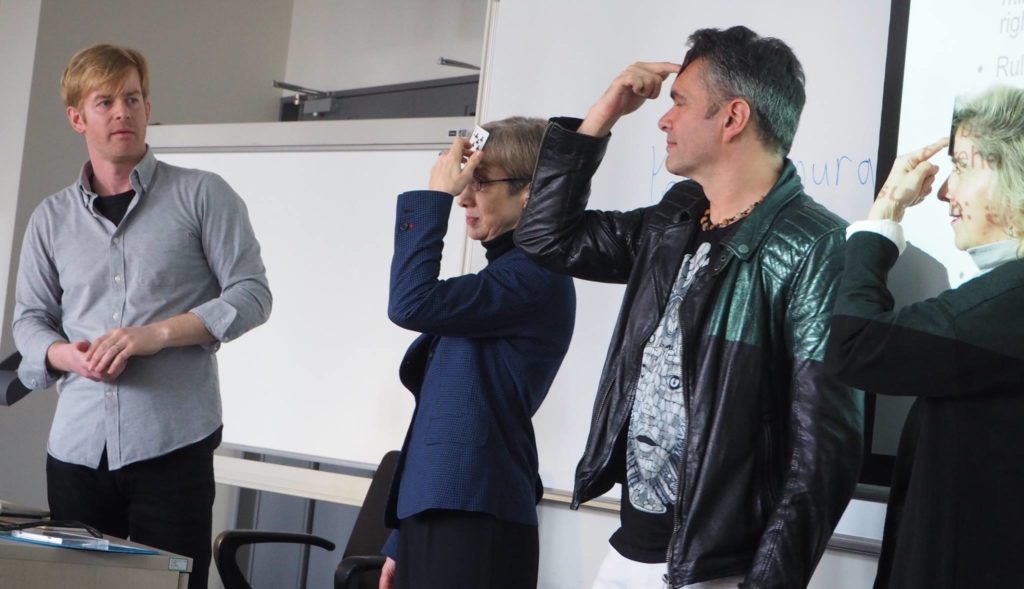 You'll notice in the attached program that we added a "materials exchange" among IE teachers to the final block of the program. It is hoped that all teachers in the program will actively contribute to this session. It is a way for you to share some of the content or tasks that you personally have developed for use in your IE Program classes with others in the program.
New teachers to the program can feel free to share what they've found useful in their previous teaching settings and which they think may be applicable to the IE Program. [Since new teachers do not necessarily understand, at this point, what the levels IE I, II, and III mean in practice, they may note on the materials they contribute CEFR levels A2, B1, B2, or C1, and add the IE course they think the materials would be relevant for.
This is how it the Materials Exchange will work…
The materials exchange session will involve teachers sharing an activity, task, rubric (or variation on existing ones) relevant to IE Core, Writing, Active Listening, Academic Skills, or Academic Writing. Materials that are used in individual IE Seminars or in communications classes (such as Media or Performance Studies) that may be adapted for use in IE classes would also be highly welcome. I have included an example handout that I intend to share (language of poetry). To provide context, please add these labels to the top of the handout, as I have done:
___________________________________
Context used:
Level:
Possible application:
___________________________________
For example:
Context used: IE Seminar on Food Culture (Students were asked to analyze a food-themed poem and apply as many of the poetic terms as possible when discussing it.)
Level: Perhaps better suited to the IE III level
Possible application: Since many of the literary concepts used to analyze and discuss poetry are the same as those used for prose (e.g., perspective, irony, metaphor, motif) it is possible to illustrate them through discussions of poems that correspond to the IE themes.
___________________________________
Handouts to be used for the Materials Exchange Session can be emailed to me with "Sharing" in the subject field no later than this Friday (March 31st), if possible. Attachments in PDF and Word formats would be appreciated. We will have TAs print out the documents for the participants in advance of the session so that everyone can leave with a packet of useful materials. They will be made available to those unable to attend the IE Orientation as well. Teachers contributing the materials might say a few words about them during the session. I think this will be a valuable new format to add to orientations going forward. [Note: Those unable to be present at the orientation can still feel free to contribute materials].
We will be informing you as more videos that will be used in the "flipped" part of the session are added to the Vimeo Showcase: Integrated English Program Tutorials.